15 Must Have Swimming Pool Floats for Summer
Voila, Summers!
Finally, summers are right around the corner, about to turn the bright-colored picturesque ambiance of spring into the shades of chilling hot sun. As the spring season meets its end in the United States and summer grasps the rope to replace the cool, most of us are filled with thoughts of spending our hot summer days floating in a parky swimming pool. Those refreshing drinks, crystal-clear water, and vivid floats mumble in our ears to step into the pool and dodge the burning sun.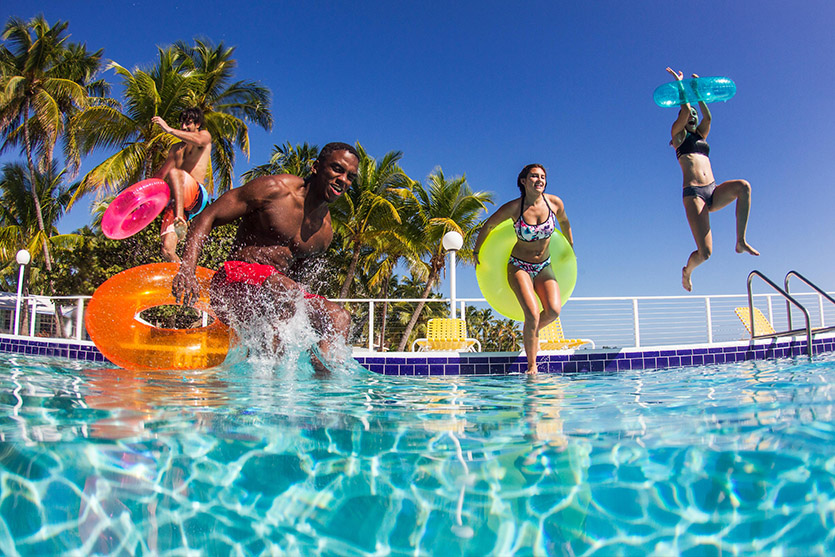 The jazzy floats are the prominent eye-catchers during the season and a must-have pool accessory. There are innumerable options of floats to choose from the online sites when thinking to buy one. But, before you make your choice, let's know about some trendy and cool swimming pool floats to be considered as an option.
15 Awesome Pool Floats
Giant Pretzel Pool Float
A special attraction for kids, a pool float resembling a pretzel with sprinkles all over can support four kids at a time and is a must-have swimming pool accessory.
Leaf Mat
Bearing a mirror resemblance to a giant monstera leaf, this green leaf mat takes the green thumbs in awe. However, it's a single-person swimming pool float that brings you the feel of connecting with nature.
Golf Cart Float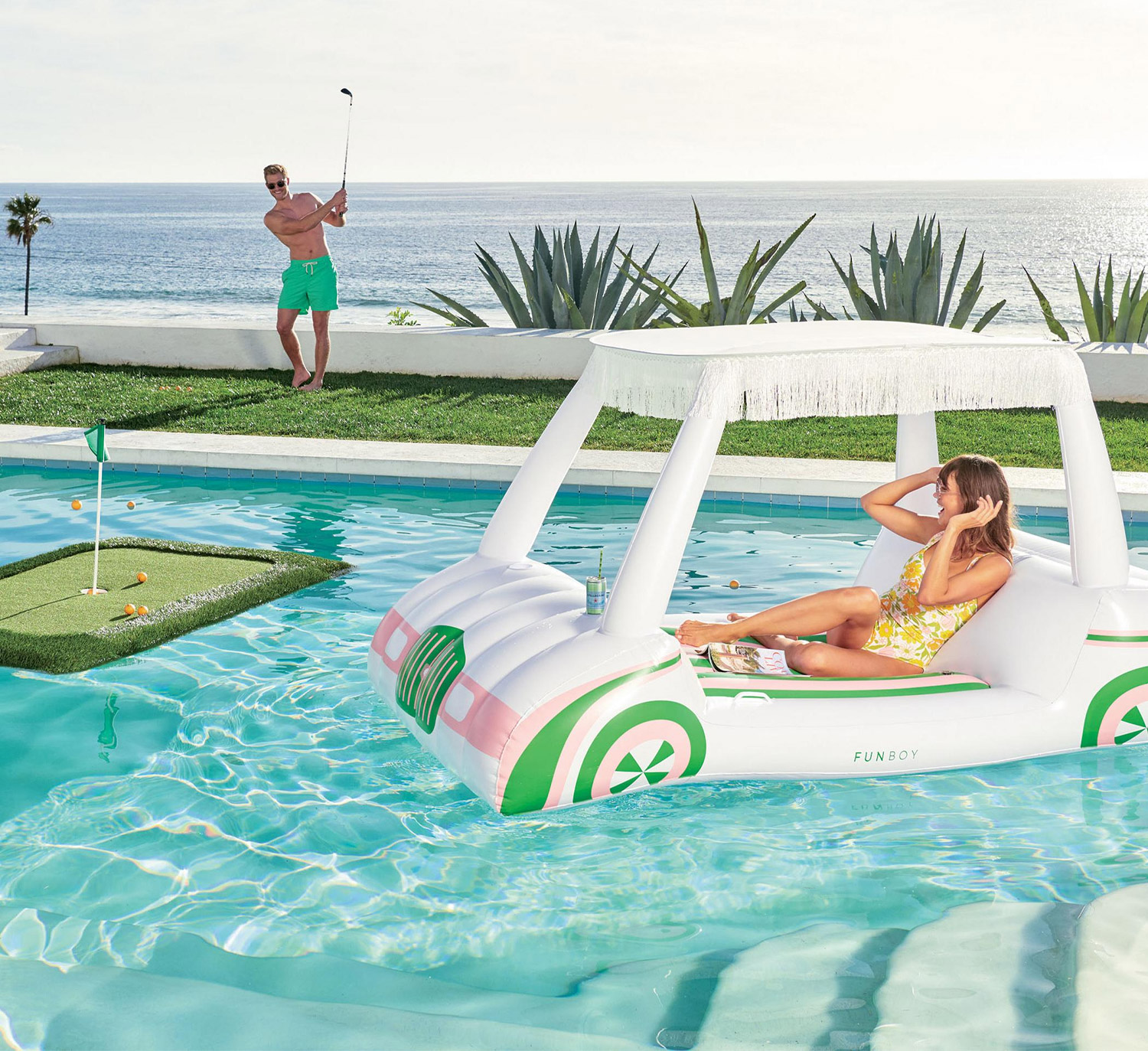 Being an inflatable pool float like a mini golf cart, frontgate.com offers you a pool float that helps you escape the hot sunshine overhead with a sunshade structured along with a double-lined cooler compartment.
Peacock Float
Want to feel like a peacock with those gaudy feathers, then this swimming pool float is just for you. The Intex peacock float is filled with vibrant colors, ready to take off on a soothing journey during summers while you relax on its feathers.
Unicorn Float
Those childhood fantasies of riding on a unicorn's back are now a reality, but the only thing that differs here is that you can't ride through a clear blue sky but have to float in a swimming pool with chilling blue water while you lay there relaxing on its back.
Mermaid Tail Pool Float
Feel like a mermaid with a giant mermaid tail pool float available in colors like pink and green that can take you on an underwater ride while you are still floating on the water surface.
Oyster Shell Float
We all live in our houses made up of bricks, or wood, or stones. But ever imagined staying inside an oyster shell? Well, now is your chance to feel the life in an oyster shell with this amazingly beautiful white oyster shell swimming pool float that could turn your mermaid aspirations into a reality.
Yacht Pool Float
Ever went on a sail in a yacht? If not yet, you now have the chance to experience a mini sail with this inflatable mini yacht pool float and be a pirate of your pool fighting those light pool waves with your valor.
Intex Vinyl Angel Wings Mat Floating Pool Float
This vividly bright-colored pool float by Intex is designed to give you an angelic experience while you get your own wings beneath your body with divine powers to float on the water surface.
Shark Float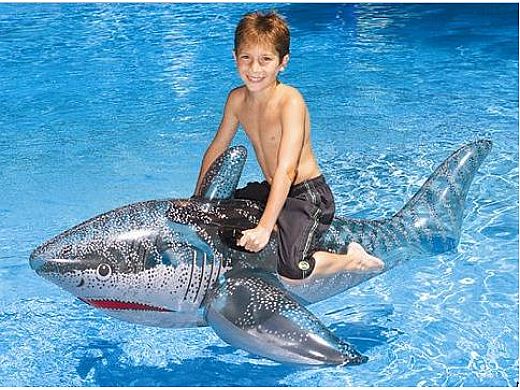 It's always exciting to meet a shark while on a sea route but unimaginable and fearsome to meet one while relaxing in your swimming pool in your backyard. But, this cute little shark float gives you goosebumps not because of fear but the adventure to float on water and chill throughout the day on its back. This seems enthralling, especially for children.
Flamingo Party Island
The name says for itself. This swimming pool float is an adorable flamingo with a colossal structure and a capacity to float with at least a small family or four adults relaxing within. This is usually meant for larger swimming pools.
Tropical Tahiti Floating Island
This floating island is a must-have swimming pool float when having a pool party at home. It provides enough room for six people to lounge on and plenty of built-in cup holders to take care of your beverages and drinks.
Rose Bottle Pool Float
It's a giant bottle with water splashing outside the periphery painted in a beautiful, and eye-soothing rose pink color.
Inflat-A-Bull Bull Float
Turn your swimming pool into a rodeo with this inflatable bull float waiting for you to be its master in the pool water.
Butterfly Pool Float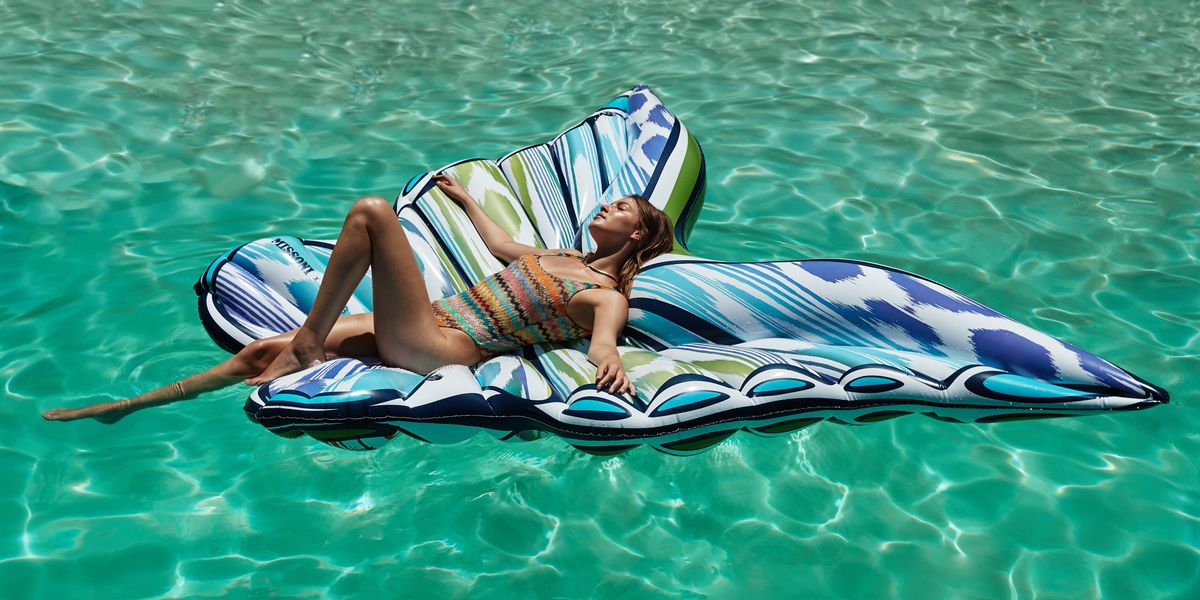 Feel the graceful butterfly within yourself expanding its wings on the water surface with this butterfly pool float.
Conclusion
Grab your amazing swimming pool floats and chill in the cool blue water during this summer. But, keep your eyes on the discounts, coupons, and deals that are great at saving money inside before you spend your income on these mind-dazzling floats. You may visit websites like Couponxoo.com that shower you with great deals, discounts, and coupons that are worth saving your hard-earned money. Couponxoo.com is designed in a user-friendly way that brings all the available money-saving deals under one roof and assists you in picking the one that suits you and saves you the most. So, get your floats fast to chill in this summer with money-saving coupons and discounts on websites like Couponxoo.
Saving Tip
Trending Searches