5 Shopping Trends in 2020 - CouponXoo Survey Analysis
Psychology of self-rewarding and giving gifts for themselves is one of the spending trends of people at the end of the year, according to a survey conducted by Facebook.
A survey conducted by this social network in cooperation with YouGov online from December 2019 to February 2020, for shoppers in almost everywhere and over the age of 18 to evaluate the habits and behavior of end-of-sale shopping year. Moreover, Statista shows the significant change in shopping habit during the outbreak of customer compared between before and during the Covid-19, for example, appliances change from 42% before to 51% during the pandemic, packaged food change from 20% to 27%,... In addition, Facebook also analyzes many information sources on GlobalWebIndex and data on social networks from October 2019 to April 2020.
Facebook's report identifies five end-of-year shopping trends and how Covid-19 affects the attitudes of consumers.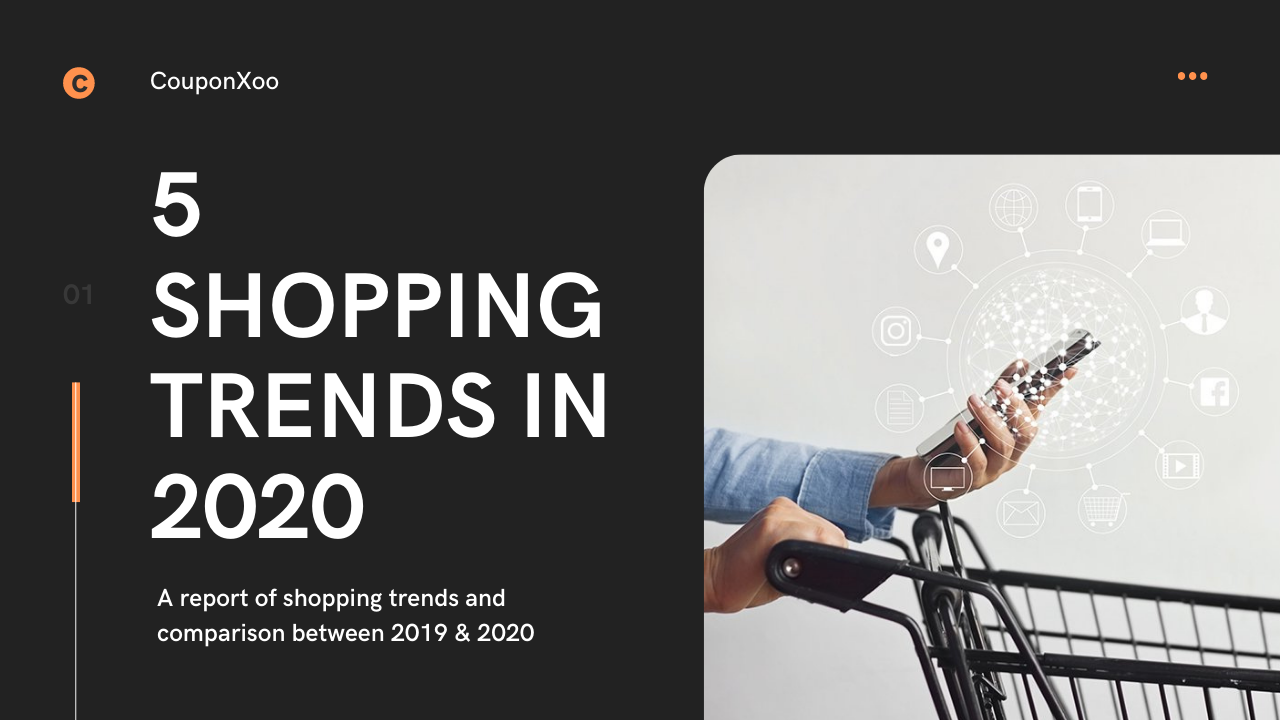 Consumer groups increase online shopping
Middle-aged and older, generation X (born 1965 to 1980) and Boomers (born before 1964) are the biggest drivers of online and mobile shopping growth. 62% of users in this age group are interested in "Buy online, receive in-store". 70% admitted they texted at least one store during the year-end shopping season.
Mobile shopping has grown in popularity, as 65% of X generation users and Boomers globally said they relied on mobile devices for shopping when Covid-19 broke out. Particularly for the Boomers generation, the buying trend on mobile devices in 2019 has increased by 20% over the same period last year.
In addition to the Facebook survey, CouponXoo also conducted a small reflection of shopping behaviour between 2019 and 2020. The results show that: in 2019, 95% of users will come to the place to buy and only 60% of people will decide to buy online. Meanwhile, this figure has changed by 55% door to door and 82% online purchase. This obvious change shows that shopping behaviour of customers has changed significantly, the main reason is due to the complicated development of COVID-19 epidemic, people are forced to stay indoors to ensure the safety. of themselves and the community.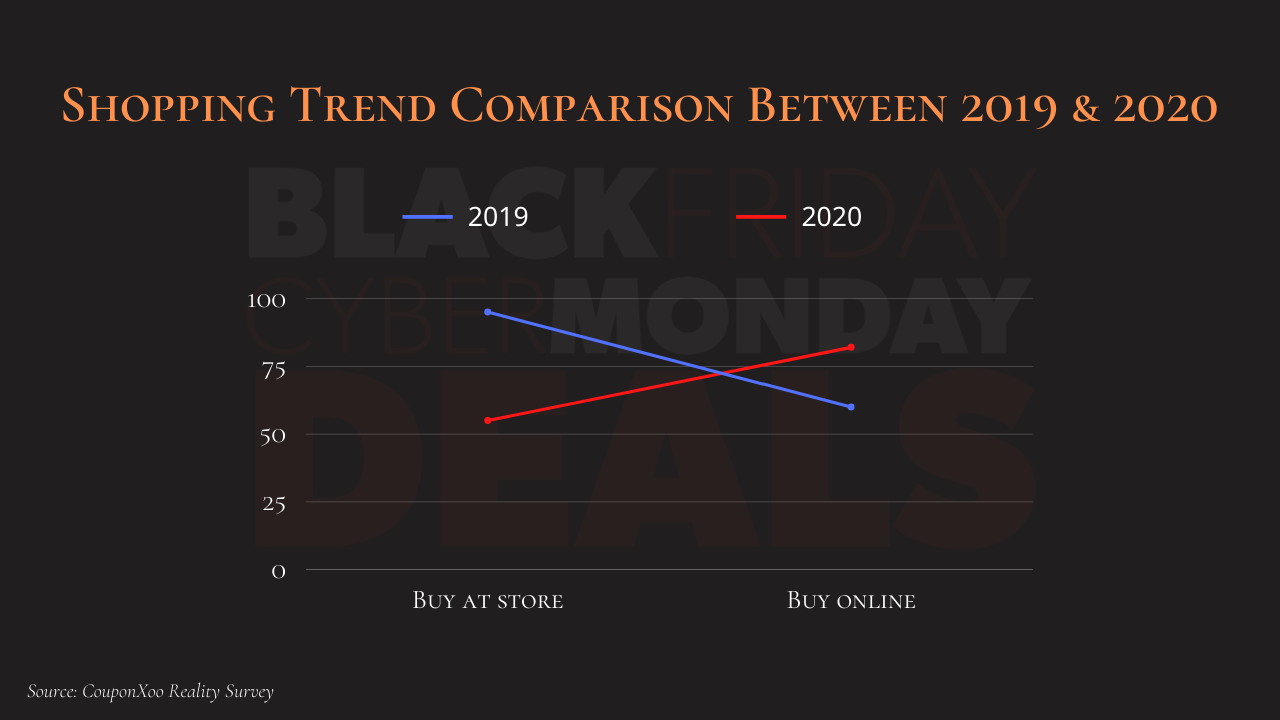 Increase the role of the shopping festival
In Asia country, 82% of survey respondents said they actively seek out discounts during the year-end shopping season, usually starting 10 days before. 70% believe that the New Year is the time to hunt for the best incentive programs. In fact, businesses that recorded orders increased by almost 2-3 times compared to weekdays in three typical online shopping festivals: November 11, Black Friday (the last Friday of November) and Cyber Monday.
Self-rewarding psychology
The act of self-rewarding and giving gifts to themselves with small luxuries will be the way consumers approach big shopping festivals and New Year. On average, 8 out of 10 survey participants wish to reward themselves with products such as food, home appliances, health care and beauty products.
By rewarding themselves like this, they will feel more motivated to be able to do the next projects. With this mentality, customers will make sudden buying decisions and uncontrollable ability to spend money, so stores should also provide services that are more convenient for them, especially during the epidemics time and demand for online purchases are on the rise.
Covid-19 promotes product discovery
77% of respondents said that they learn more about different product groups during the year-end shopping season than at other times of the year. 79% said they might try new brands when shopping for the New Year.
The multi-channel shopping experience is especially meaningful to users, especially in the current epidemic context. 82% of shoppers say they research what they want to buy on online channels before buying in-store. Even while in-store, 39% of shoppers will turn to social media review.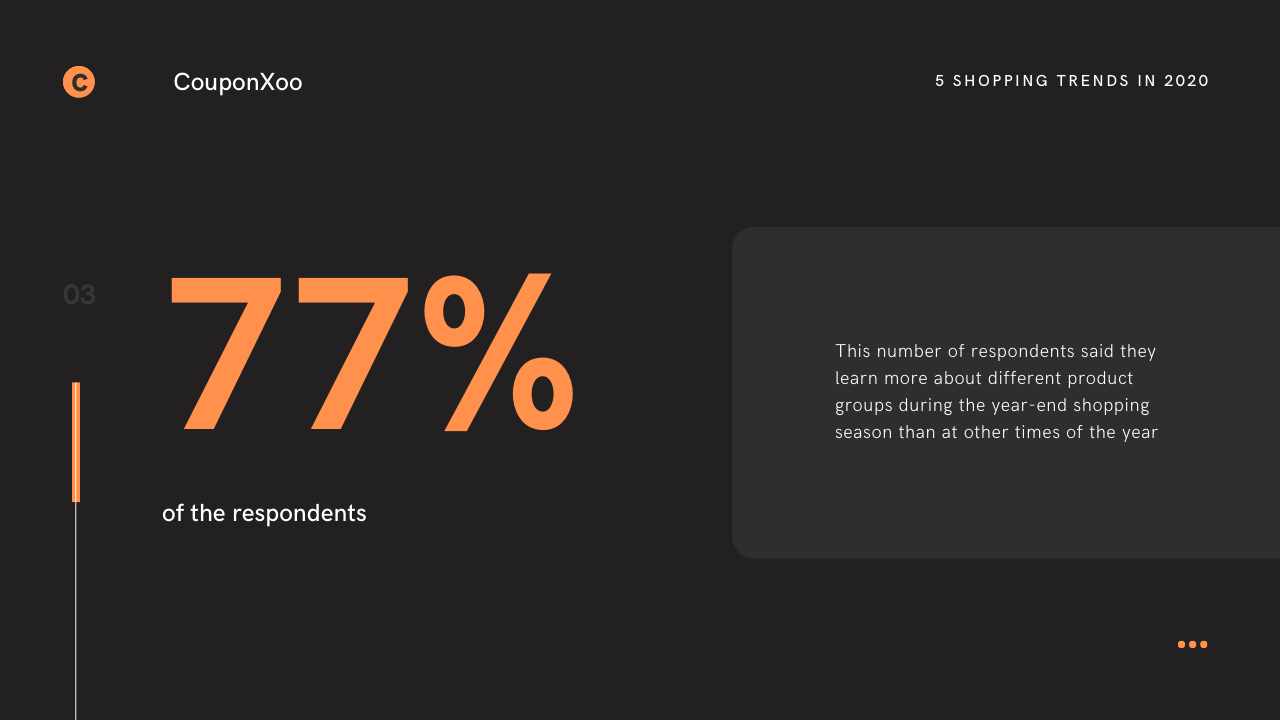 Cohesion between brands and personal values
40% of year-end shoppers want to look for products and services that are honest and have clear and transparent information. Consumers want brands to be "smart" and "trustworthy" rather than "young". They also argue that product videos are the most helpful way for them to make a purchase decision.
For the habit of giving money in Asian countries, using cash is still the main practice in giving money activities. However, contactless donations are gradually being accepted by the younger generation thanks to their convenience and safety.
With such consumer trends, the question is how businesses need to take advantage of these trends.
For middle and older users, businesses need to build a personalized content strategy, sending customers the right messages to drive conversion of shopping behaviour. Discounts and promotions continue to be the focus of the year-end shopping season, especially since users have delayed many year-end shopping plans due to Covid-19. 10 days before discounts are an important time to reach customers and anticipate shopping psychology.
Enterprises can also reinforce the trust and self-rewarding behaviour of users through appropriate content and considerate customer care policies. At the same time, brands now need to boldly reach new customer groups through omnichannel marketing and commerce, leveraging the power of social networks to increase digital transformation.
Saving Tip
Trending Searches