Hola VPN Review: Is this the best VPN you can use?
If you are a frequent VPN user, you may have heard of Hola VPN once. Ever thought of giving it a try? Here's what we think about it.
Hola VPN has been preferred globally by over 200 million customers, and it is remarkable being a favorably new entrant into a highly competitive industry. But there are no clear statistics on the actual number of users, but we think its success may largely come from the fact that it provides a free VPN service.
Related: Top 5 Reasons to Value Money from VPN 2020
We advise you with caution when considering free VPN services, and you never know how these businesses profit from delivering free VPN services. You get what you pay for in the market of VPN apps, and while trusting a free service, you have to be vigilant, even though it meets any needs. You do not want to risk your sensitive details.
Here we will review the features of Hola VPN and see if it's worth the deal. Starting with:
Server
The Hola VPN system means that they have no set number of server locations. Your device operates by routing traffic through other network users. The position of the server is then determined by the actual user location. However, their website reports that in 195 countries, it has servers.
VPN Speeds
Hola VPN is fantastic for a free service in terms of speeds, but a catch is likely. We find that Hola VPN is a proxy service than an actual VPN after researching more about it.
The service uses an unencrypted connection when visiting a website, which doesn't adversely affect speed and performance. However, you can assume that your data may not be as secure as you expect.
One big reason to use VPN providers is to shield your personal information from prying eyes, but it seems that hola VPN fails in that segment.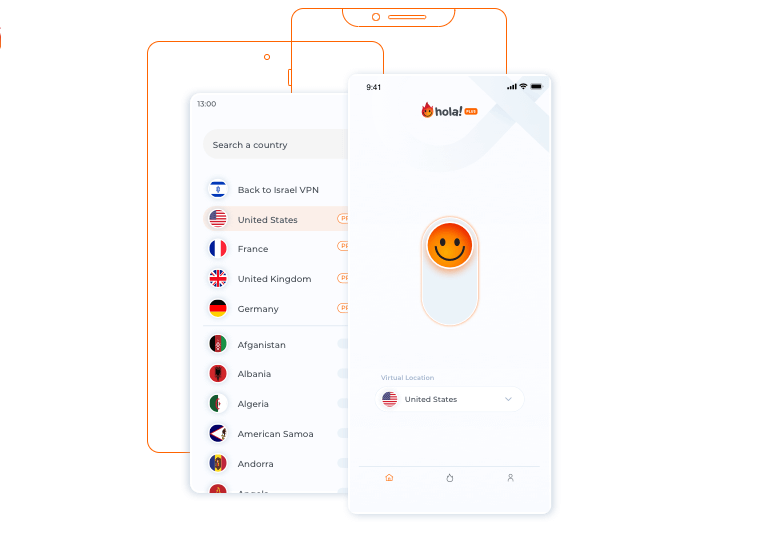 Compatibility
For Windows and Android smartphones, the Hola VPN provides a free unencrypted VPN application. These may not function the same way as normal VPN applications, though. They are like proxy browsers, similar to a web browser, that can route traffic on the app.
It also does not provide a separate program for macOS and will have to be accessed using the add-ons in the browser.
Compatibility for streaming and game consoles
Although several leading VPN providers now provide exclusive game consoles and streaming network software, Hola VPN does not offer any separate product for that. It is not, therefore, advisable for this reason to use it unless, you don't have any problem revealing your data (which you will have for sure)
Security
It is better not to expect any security when using Hola VPN. Hola VPN provides low-level protection with minimal safety features, potential data leak architecture, and a no-kill switch.
So, hola VPN might not be the right alternative for you if you deal with classified details on a regular basis. Hola VPN's smart ad blocking is one good thing, but it's only available on Windows.
AS far as logging policies are concerned, Hola VPN records retain important user details, such as user name, actual IP address, e-mail address, browser name, information related to billing and payment, connection timestamps, the websites you access, and the timeframe spent on each website. Accordingly, it retains critical information about its user, including user sensitive data. Hola VPN is not the perfect alternative for dealing with confidential data, as it has been said to retain logs.
Price
Hola VPN is a more secure and confidential way to access the internet. Except in the free edition, there are no limits for you to browse except a recurring time limit, which can be extended easily.
On the other hand, if you determine that you want the premium version for better speed and protection, then it has three payment plans to choose from:
The 3-month subscription at $11.99/month
The annual package costs $6.99/month, down 42% from the 3-month plan.
The 3-year package is $2.99/month, 75% cheaper than the 3-month plan.
When you subscribe to the premium Hola VPN version, ten separate devices can be attached simultaneously. Also, a 30day money-back guarantee is available if you chose not to use it or just don't want it. No constraints exist at all, so what are you waiting for?
Summary
If you are a casual user who wants a VPN for bypassing movies and stuff, then Hola VPN is one of the best free VPN solutions available. We strongly recommend this.
In addition to having servers worldwide that allow you to bypass almost all area locks, the VPN features incredibly fast speeds. Moreover, without requiring you to look at ads, the Hola VPN can give you unrestricted bandwidth. However, if you are a regular user who is conducting various transactions at different locations, it is better to go with premium reputable VPN providers.
Saving Tip
Trending Searches