Top 10 Selling Halloween Items on Amazon in 2021
The spookiest time of the year is just around the corner, 31st October, The Halloween Night. Every kid wants to stand out from each other in the house and wants to look creepiest than ever before. Amazon is the most amazing place to surf for your spooky collection of items such as costumes, skeletons, creepy crawlers, and lanterns, etc.
You know what, if you have an Amazon prime account, you can get two-day free shipping easily if you are shopping at the very last moment. In this article, we have looked at the 10 best-selling Halloween items of 2021 on Amazon and shared their ratings with you.
Web to Cover Mantle: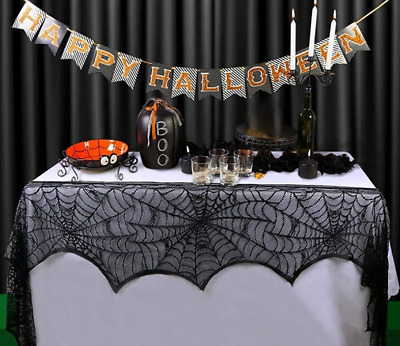 The drippy spider web within and outside the house makes it look adorable. It has got a total of 129 reviews and is rated 4.4 out of 5 stars. It is a kind of decoration that can make your home's front door or fireplace stand out by making it look like a spider web.
If you are one of those who like to be a little extra, you can also purchase mini spider stickers, packs of 160 for around $10, and they easily fit in the fabric as well.
Spooky Runner:
This spooky table runner will make the dinner table look more festive and has got a total of whooping 330 reviews. It is one of the most top-selling products and has a 4.5 out of 5-star rating at Amazon.
This table runner is going to drape your dinner table in angry pumpkins and big bats as well. Dark Colors such as purples, maroons, or oranges are going to make your table have an extra festive touch. This table runner will only cost you less than $10, so it is worth the shot.
Festive Ornament Tree:
This little tree will be a substitute for a Christmas tree; celebrate Halloween like your Christmas. This tree has a rating of 3.8 out of 5 stars and has a total of 140 reviews. This tree will be paired up with colorful LED lights, some black cats, mini pumpkins for decoration, and spooky spider ornaments. It can be stored anywhere around the lounge. This tree usually costs around $30, to be exact.
Ominous Glow Lanterns:
Do you know what the best thing about this product is? The lights can easily be removed no matter the color of light one chooses, and these can be used anywhere around the year.
Its rating is 4.6 stars out of 5 and has a whopping 1674 reviews. These lanterns create a spooky look and will create a look straight out of a horror film. Green or spooky purple lights are going to make your house stand out.
Spooky Ghost Lights:
These ghosts are very small and cute hangings to be placed around the house but might not last for a very long time. It has a 4.1 out of 5 stars on Amazon and has around 130 reviews in total. They are a dupe to Casper. These can be dangled around in the porch because they are powered through solar.
Sparky Decoration:
These are very strong and tough hangings that can last several Halloween in your home. They also have a good 3.8-star rating out of 5 and also have 124 reviews. They are equal in ratio from scary to sparkly. The best way to make them look scary is to either place them in the hallway or scatter them around the house so that they light up elsewhere.
Festive Way:
These are shaped like pumpkins and are the most fun way to light up the porch. They have a tremendous 4.3-star rating out of 5 and have around 54 reviews in total. If you do not like the old school lanterns being hung around the house to light up at Halloween, you can use them to cover your porch, and they are the perfect solution.
Green Goblin:
It's an image that creates a beacon for trick or treat. It has almost 153 reviews and has an average of 4.1 out of 5-star ratings. You must skip the festive fall wreath and opt for the spooky goblins to light up the porch. It is a green goblin.
Skull Lantern:
3.8 Out of a 5-star rating, with 149 reviews, this great lantern is going to look best either on the lawn or on the mantle. If you are one of those people who want to purchase the fanciest of Skull lantern items but do not have time to go and search for them in the market, then you have the chance to stock it up just with a click from your computer.
Spider Webs:
It costs less than $5 and has around 200 spiders in it. It has 3.7 out of 5 stars and 227 reviews. Furthermore, time of the year is famous mostly for its candies, the spooky decoration, the stories about witches, and the best of all are the creative costumes and get-ups everybody wears.
Saving Tip
Trending Searches