Top retailers in the world (Part 1)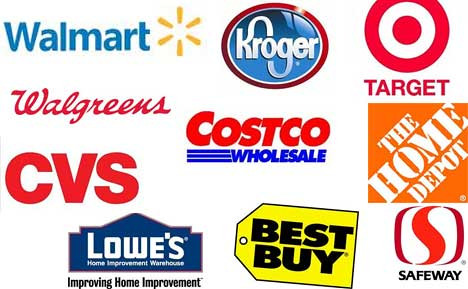 American and European companies have been ruling the ranks of the world's biggest publicly traded retailers. Most of these global companies have wide distribution networks and thousands of retail locations spreading all over the world. While many companies in this list manage retail websites, Amazon.com stands out as the only fully online retailer to make the list.
In the list of the top 50 retailers in the world, the US is the most appreciated nation with 17 of the companies being based there, followed by France with 7 and Germany with 6. China has just 4 retailers on the list - JD.com, Alibaba, Suning, and China Resources Enterprise. In this article, I will give you some of the top retailers globally.
Wal-Mart Stores, Inc
Wal-Mart Stores, Inc. (WMT) is the world's biggest retailer with a significant margin. With $517bn in global revenue, Walmart is still over double the size of Amazon, despite Amazon owning a significantly higher market capitalization. Walmart is now managing 11,453 store locations in 27 countries. Walmart spent about $228 billion of its 2015 revenue to attribute to operations in the United States. Most of the company's store locations worldwide running under the Walmart brand.
Besides that, Walmart also manages a few other retail chains including Sam's Club membership warehouse stores around the world, ASDA stores in the United Kingdom, Bodega Aurrera stores in Mexico and Seiyu stores in Japan. Until December 2015, Wal-Mart Stores, Inc. has a market capitalization of about $194 billion. By focusing to expand internationally, Walmart got 23% of revenue from outside the US, which is 4% higher than Amazon.
Amazon
Amazon is one of the world's top online retailers. It announced the sales of nearly $89 billion for the 2014 fiscal year, which 19.5% increased compared to the previous period. The company runs 14 country-specific retail websites and delivers products to customers around the globe. About 62% of Amazon sales come from outside the US. Both domestic and international revenues have witnessed an increase in recent years. The higher market capitalization of the business comes to its 5-year growth rate of 22% compared to just 1% for Walmart and $10bn in profits for the past financial year, significantly higher due to its highly profitable cloud computing business. Sales of media products take 25.3% of net sales, while electronics and other general merchandise account for about 68.4%. Until December 2015, Amazon has reached $314 billion in market capitalization - which Is the highest market cap of any company on this list.
Costco
Costco Wholesale Corporation is a warehouse retail chain for members only with operations in nine countries. The company reported worldwide revenue of $112.6 billion for the fiscal year 2014, including more than $2.4 billion in revenue attributed to annual customer membership fees. The company's revenue increases by about 7.1% every year. This revenue was driven from just 788 sites - showing the big store model can certainly drive high volumes. Costco owns 671 warehouse locations all over the world, including 474 locations in the US. Until December 2015, Costco's market cap reached $73.6 billion.
Schwarz Group
Schwarz Group is the highest non-US entry on the list witnessed revenues of $130bn with 63% of revenue coming from outside Germany for the group that operates the Lidl supermarket chain and other retail assets. Lidl had its most successful first year of operation in any country, having started in Serbia, going from 0 percent to 70 percent household penetration in 12 months and accounting for 9 percent of all grocery spending in the small country. At the same time, Kaufland stays a stop grocery target for many countries in Central and Eastern Europe. If Schwarz can find a way in the markets where there is a demand for deep discount private label stores, this company will continue to stay at the top of these rankings.
Kroger
Kroger Company (KR) ranks the fifth place in the world's top retailers by revenue and the largest grocery retailer in the US. It announced to have total sales of $108.5 billion for the fiscal year 2014 which is 10.2% higher than the previous year. Kroger manages 2625 supermarkets and multi-department stores which consolidate to account for 93% of company revenue. Kroger also manages 782 small-format convenience stores and 325 jewelry stores. It runs stores under more than 30 different brand names including Kroger, Ralphs, Fry's, Fred Meyer, Food4Less, Littman Jewelers and QuikStop. Kroger owns a market cap of $40.4 billion.
Without any global presence, Kroger still managed to generate $124bn in revenues from just 3037 stores in the US compared to Schwarz's 12,000 stores and $130bn.
Walgreens Boots Alliance
Walgreens Boots Alliance, Inc (WBA) is a holding company founded during the merger of drugstore giants Walgreen Company and Alliance Boots at the end of 2014. By the fiscal year ending on August 31, 2015, WBA reached sales of $103.4 billion. However, this figure only covers sales arising from Alliance Boots operations after the merger was completed on Dec. 23, 2014. Thus, true full-year sales of the combined company have not been available yet. The combined company manages more than 12,800 drugstore locations in 11 countries with a market capitalization of $92.2 billion. It has become the biggest pharmacy company in the global generated $114bn in revenue with 13% of sales coming from international businesses, most notably the high street pharmacy Boots, in the UK.
Saving Tip
Trending Searches